Impact Regina Economic Indicators
Counter to provincial trends, the impact Regina economic indicators shows the economy continues to grow, with the bulk of indicators (employment, residential, commercial and industrial construction, population, gross domestic product) posting advances over the previous year. The only soft spot observed was in government/institutional building permits.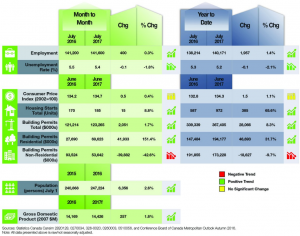 Total employment in the Greater Regina Area was up 1.4% or just under 2,000 positions in January to July 2017 over the same period in 2016. However, July 2016 to July 2017 employment growth, although still positive at 400 positions, has slowed sharply from the first 5 months of the year.
Year-to-date employment in July 2017 was up over the same period in 2016 in agriculture (400), manufacturing (1,600), transportation and warehousing (300), professional, scientific and technical services (1,900), education services (100), healthcare (900), accommodation and food services (500), and public administration (800).
Year-to-date employment in July 2017 was down in resource extraction (-200), utilities (-200), wholesale and retail trade (-100), finance, insurance, real estate and leasing (-1,200), business, building and other support services (-800), information, culture and recreation (-500), and other services (-700).
Construction employment remains suppressed. Year-to-date July construction employment is down by 800 positions from the same period in 2016. With stadium and K+S work complete, other activity such as the Regina bypass and new home construction are not of sufficient scale to absorb position losses
The average year-to-date unemployment rate remains low at 5.2%, down from 5.3% in July 2016. Year to date, number of unemployed is down by 100 people from the same period in 2016.

Total housing starts are up by 385 units or 65.6%, rising from 587 units in January to June 2016 to 972 units in January to June 2017. Increases were widespread across singles, semi-detached, row houses, and apartment units.
January to June 2017 year to date building permits are up 8.3% over the same period in 2016. Most sub sectors posted increases: residential (31.7%), industrial (83%), commercial (73.2%), with only and government/institutional permits showing s a decline (-56.3%).
Despite low inflation, the Bank of Canada's first interest-rate hike in seven years occurred in July, 2017. The central bank raised its overnight lending rate by a quarter-percentage-point, to 0.75 per cent from 0.5 per cent in response to higher than anticipated growth. Higher rates are expected to help to cool the housing market and slow debt-fueled purchases.
2016 population was up 2.6% over 2015 to 247,224 on the strength of international and intraprovincial migration. This can be expected to continue through 2017 with continued employment growth spurring further in-migration.
The Conference Board of Canada forecasts Regina's economy to post a 1.8 per cent real GDP gain in 2017, following 1.3 percent growth in 2016.
Source: Impact Regina – Economic Indicators is a joint initiative between Economic Development Regina Inc., Praxis Consulting, and SJ Research Services. It provides a concise Economic Report Card of key economic indicators for the Greater Regina Area, updated monthly.