Government Programs to help with Your Home Purchase
The Government of Canada offers a number of homebuyer assistance programs that can make the financial pain of that big purchase a little easier to handle. Below are some of the Government Programs to help with Your Home Purchase.
First-Time Home Buyer Incentive
First-time homebuyer? There are several programs designed to assist you, like the First-Time Home Buyer Incentive. This incentive offers 5% or 10% of the home's purchase price toward a down payment. As a result, you have a lower carrying cost on your mortgage. You're eligible for the incentive if, as the name suggests, you're a first-time homebuyer in Canada. (You can also take advantage of it if you've recently ended a marriage or common-law partnership.)
You do have to pay the incentive back, however, when you sell your home, or within 25 years of purchasing it — whichever comes first.
Buyers in Toronto, Vancouver, and Victoria Census Metropolitan Areas are also eligible for an increased qualifying annual income of $150,000 instead of $120,000, and an increased borrowing amount of 4.5 times their qualifying income.
Once you've been pre-approved for a mortgage and you've found the home for you, you fill out the Shared Equity Mortgage Information Package and the Shared Equity Mortgage Attestation and Consent Form, for your lender to submit for you. If you're approved, call FNF Canada at least two weeks before your closing date to activate the incentive.
Home Buyers' Amount
One of the benefits of being a first-time buyer is that when tax season rolls around, you can apply for a healthy deduction. The Home Buyers' Amount — also referred to as the first-time homebuyers' tax credit — allows first-time home buyers in Canada to claim a $5,000 tax credit for the purchase of a qualifying home, which includes existing homes and those under construction. However, the budget proposes increasing the credit to $10,000.
The amount you get back from the CRA is dependent on the lowest personal income tax rate for the year you bought your home. According to the Government of Canada, the current rate for 2022 is 15%, which would result in a rebate of $750.
To claim this tax credit as a first-time homebuyer in Canada, fill out line 31270 on your yearly income tax return.
Home Buyers' Plan (HBP)
If you have a Registered Retirement Savings Plan (RRSP) and you are a first-time home buyer, you can dip into it tax-free to buy your home via the Home Buyers' Plan. In 2019, the federal government increased the withdrawal limit to $35,000. But keep in mind, you have 15 years to pay back the withdrawn funds.
GST/HST New Housing Rebate
People buying a new build, or even building their own home in 2022, can take advantage of the GST/HST New Housing Rebate. The rebate will cover some of the GST or the federal part of the HST you paid.
You can apply for the rebate by filling out the New Housing Rebate Application for Houses Purchased from a Builder, and filing it with Revenue Canada. Those living in Ontario also need to fill out the Ontario Rebate Schedule . If you are building your own home, you'll also need to submit a construction summary worksheet. And you have to include supporting documents if a vendor didn't charge you HST or GST on your invoice.
CMHC Eco Plus
An energy-efficient home doesn't just help the environment — it also nets you some savings. If your newly purchased house or condo is built to certain energy standards, you can claim a CMHC Eco Plus rebate of up to 25% on your mortgage loan insurance premium.
"The CMHC Eco Plus qualifying criteria currently consists of a list of third-party energy efficiency certifications and targets based on energy consumption and greenhouse gas emissions levels using Natural Resource Canada (NRCan)'s EnerGuide rating system," says Peter Mapendere, senior specialist of client relations at CMHC.
The rebate is currently meant for newer and newly constructed homes. So, if you're looking for a new home, consider choosing one that's been certified by a program recognized by the CMHC Eco Plus program, and with a recent EnerGuide rating provided by an NRCan approved energy advisor.
However, "a retrofit criteria is currently being considered and may be part of a subsequent round of enhancements for the CMHC Eco Plus program," says Mapendere. Until then, you can refer to the Government of Canada's Greener Home Loans program for tips on decarbonizing an existing home.
To apply, fill out the application and send it to the Canada Mortgage and Housing Corporation.
"Borrowers have two years from the date closing of the mortgage loan insured with CMHC to apply for the refund," says Mapendere. "Once received, processing of the refund can take up to 20 business days."
Government Programs to help with Your Home Purchase — Other down payment assistance programs
Maybe you don't qualify for one or more of Canada's homebuying programs because your income is too low. The good news is: there are still options. Most provinces, and even some municipalities, have some sort of down payment assistance in place.
In Prince Edward Island, for instance, eligible buyers can get a conditionally interest-free loan of 5% of the purchase price. And in Manitoba, the Rural Homeownership Program creates pathways that make it easier to purchase a home outside of major cities.
First-time home owner grants
If you're new to homebuying, you might be asking yourself: are there any grants available for first-time homebuyers in Canada?
While Canada's homebuying programs aren't technically considered home buying grants, per se, they can significantly help lower the amount you'll pay for your home. Make sure to consider all homeownership assistance programs in your province to ensure you're not leaving any money on the table when it comes time to buy a home.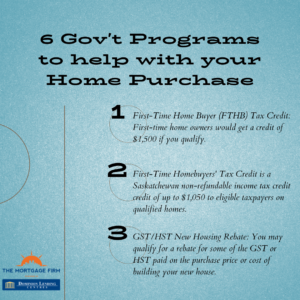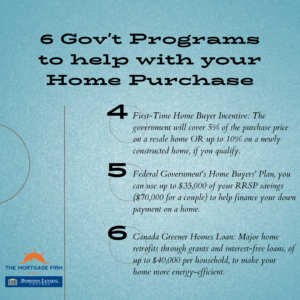 Let's Talk Mortgages… Contact